For developers that work with a lot of code, Flock's pre-installed Code Snippets app is an extremely handy one. You can quickly share code for review by peers, and syntax formatting is built-in!
To create and share Code Snippets:
Click on the </> icon in the Attachment Picker area of the Message Editor.

The Code Snippets app launches in a pop-up window.
Enter a title for the snippet and insert your code.
Flock detects the syntax of the code to simplify your work.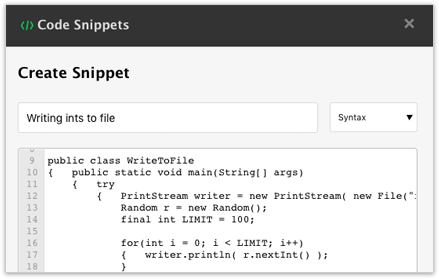 Click on Create and Post to share with colleagues in a 1-1 chat or in a channel.
Additional Notes
You can forward Code Snippets to other chats or channels in your team.
Any edits in one of the shared copies will sync with the original automatically.