@mentions are a great way to address specific colleagues in a channel. You can call out one or more teammates when they need to know something or answer a question. These teammates will receive an alert in Flock even if they've chosen to mute the channel. @mentions encourage teammates to respond to your update and result in engaging conversations.

Using @mentions
Open a channel, type @ in the Message Editor, and Flock automatically shows you a list of channel members you can tag. Flock supports three types of @mentions:
@name
Call out for a teammate's attention by using @ followed by their name in a channel.
@all
Call for the attention of everyone in a channel. All channel members will receive a mention alert indicated by a red dot instead of the blue one for a normal message. For example, you can use @all for a channel-wide announcement so every channel member is notified about it.
@online
Call for the attention of all channel members active on Flock in the last five minutes. For example, it's late in the day, and you want help for a support issue. If you're part of a support channel, you can use @online to notify channel members who are online and active, rather than wake up everyone in the channel.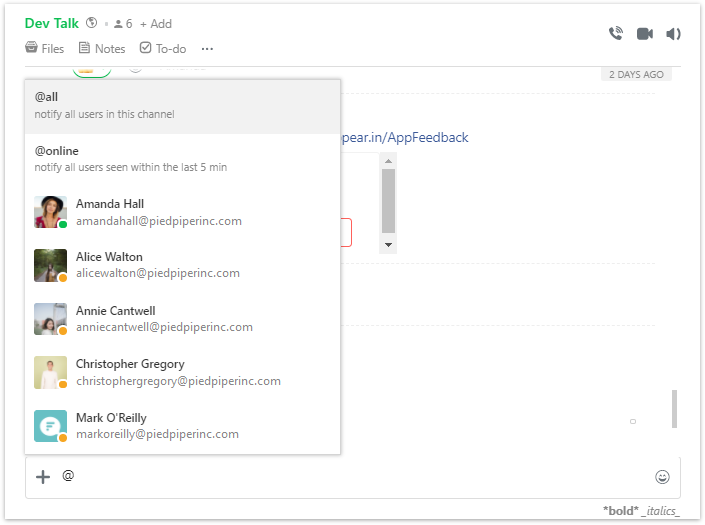 Additional Notes
@mentions let you cut through the noise, send personalized notifications to teammates, and help everyone stay on the same page. Use them wisely.