Admin Panel is essentially the Control Panel for your team. Only the Team Admin can configure these controls for a team. A team admin can control various restrict other team members from creating channels, adding new users, sharing files, etc.
To access the Admin Panel page:
Click the gear icon to go to Settings.
Click the Manage your team option. This will direct you to the Admin Panel.
Or, go to https://admin.flock.com/.
The various sections are:

1. Team Overview
Gives an overview of your team.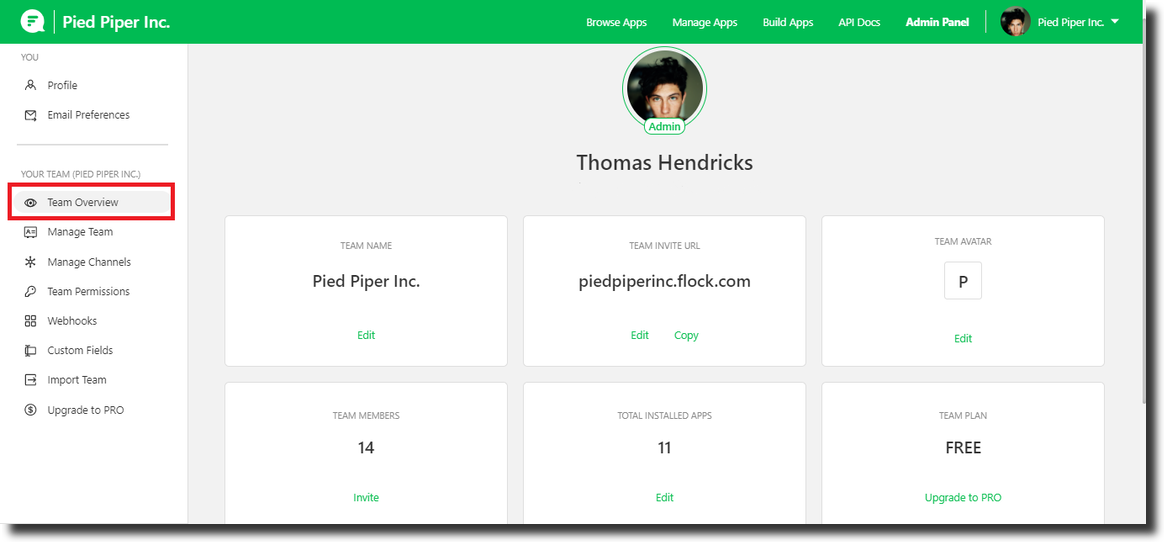 Team Name
Click on Edit to change the name of your team.

Team Invite URL


To change the URL of your team, click Edit. You can also copy the URL and share it to invite users to your team.


Team Avatar
An avatar is a personal graphical illustration of your team. You can click on the Edit option and upload an image for your team. You cannot remove an avatar once uploaded. You can only edit or change the same.


Team Members
You can view the total number of members in your team, including yourself. To add more team members, click on Invite.


Total Installed Apps
Shows the total number of third party apps installed in your team. You can click on Edit to manage and install more apps from the Flock app store (https://apps.flock.com/).


Team Plan
Shows your team's current pricing plan. If you are on the Free plan, you can upgrade your team to PRO.


Leave Team
This action takes effect immediately and cannot be undone. Once you leave the team, you will no longer have access to your team data(chat history, files, apps, etc.).

2. Manage Team
As a team admin, you can manage your team members. You can view all the team members, team admins, guests, pending requests and manage them accordingly. You can also invite or remove a team member at any time if needed.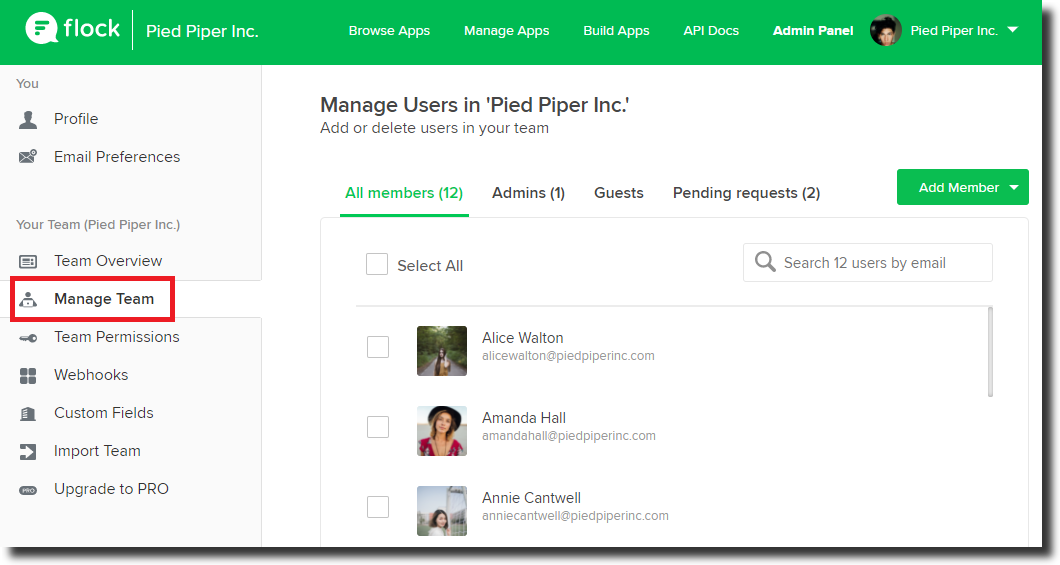 3. Manage Channels:
You can create and manage auto-join channels and announcement channels as a team admin.
Auto-join channels: If you want to automatically add members to a channel, you can create auto-join channels. Also, you can add all the members or specific user-groups to your channel.


Announcement Channels: When you sign-up on Flock and create a new team, all the members automatically get added to the Announcement channel. It gets created by default after team creation. Announcement channels are one-way channels wherein only the team admin is allowed to post. The team admin can create more announcements channels for a particular user group or all the members and also delete these channels.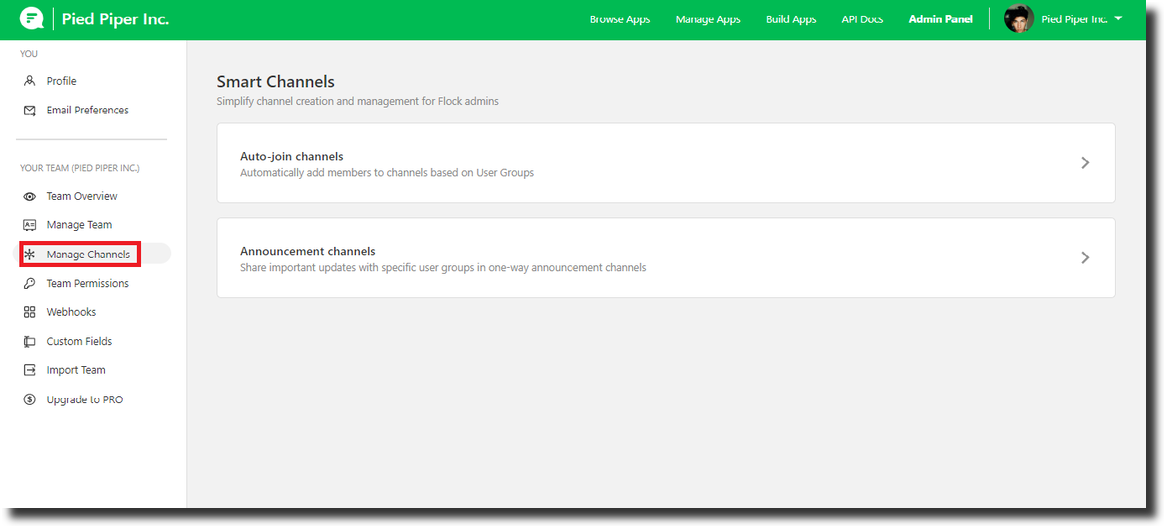 4. Team Permissions:
A Team admin may configure various parameters of their team members here.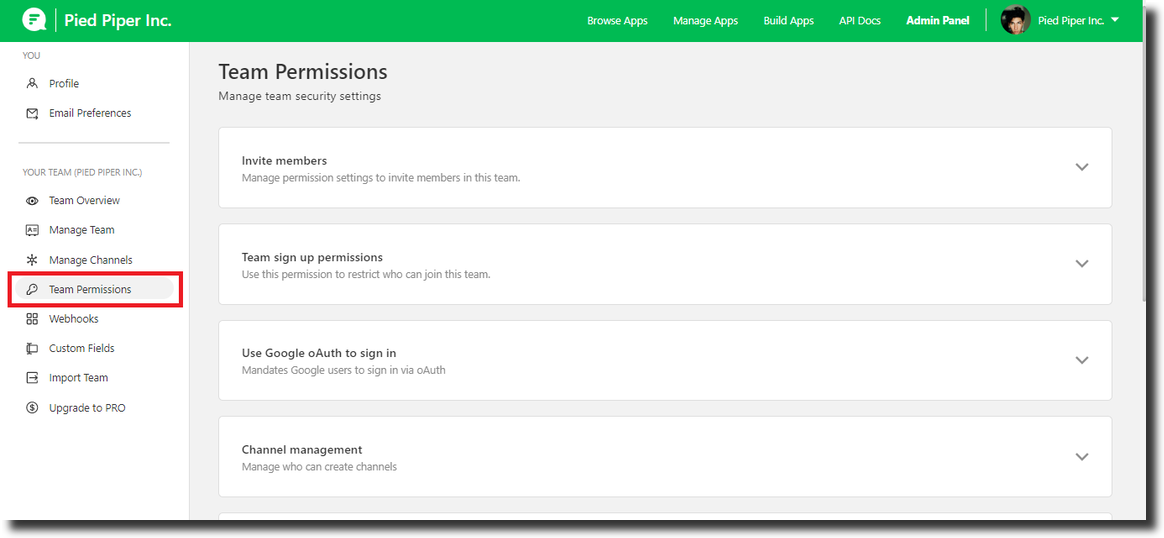 Invite Members:
By default, all team members (except guests) are allowed to invite new users to the team. The team admin can restrict this access only to the admins(PRO feature). In this case, if a team member sends an invite to add a user, the team admin can approve or reject it.
Team sign-up permissions:
A team admin can control and restrict the permissions of who can join the team. Team admin can allow users with approved domains to join the team and block other domains(PRO feature).
Automatically add users to the team:
As a team admin, you can automatically add users with a particular domain to your team. You can also remove the team members if required.
Use Google OAuth to sign in:
This feature lets users to easily sign in to Flock using their Google credentials.
Channel Management:
By default, all members can create public and private channels in a team. The team admin can allow the permission to specific members or can restrict the permission to all members except the team admins(PRO feature).
Guest accounts:
By default, all members can add guests to the team(PRO feature). As a team admin, you can give permissions to add guests or restrict the permission. Once the permission is enabled, you can restrict all the members from adding guests and allow only team admins to do so.


Show full names
By default, Flock shows short names of members in the active chats panel, e.g. John R. By enabling permission, you can view the full names of the team members, e.g. John Roberts.


File sharing permissions:
By default, all the team members are allowed to share files in the team. As a team admin, you can change the permissions and allow specific members to share files(PRO feature). You can also restrict all the members from sharing files.
File Storage:
For Free plan users, a file storage of 10GB is given to a team. This feature allows you to see how much storage your team has consumed.
For Pro plan users, file storage of 10GB is available to all licensed members.

5. Webhooks:
Flock webhooks can be used to send and receive messages from external applications/services.
Incoming webhooks: You can receive messages on Flock from an external service.
Outgoing webhooks: You can send messages from a channel to some external service.
To know more: https://docs.flock.com/display/flockos/Webhooks


| | |
| --- | --- |
| image-shadow | |

6. Custom Fields:
As a team creator/team admin, you can create multiple custom fields for a rich and unique profile base of your team members.
The basic profile details of a user includes name, mobile number, member id, etc.
To add more specific details, you create custom fields like designation and set values such as Manager, Product Support Engineer, and so on.
Depending upon these fields, you can manage your team members in specific user groups.
The custom field is a feature available on the PRO plan.
| | |
| --- | --- |
| image-shadow | |
7. Import teams:

You can move your team from Slack, Stride, and Hipchat to Flock using the Import Teams feature. You can export all the data from channels. FREE plan users can only import the public channels data. The PRO plan users can import and download all data from all public and private channels, as well as one-to-one conversations.
| | |
| --- | --- |
| image-shadow | |
8. Upgrade to Pro/Billing:
The FREE teams can upgrade to PRO and avail all the features of Flock here. While the team on PRO plan will see Billing which helps manage your team's paid subscription plan on Flock.