Flock offers team creators and team admins extensive controls to manage the people in their teams. All these controls are available in the Admin Panel. For the best experience, we recommend accessing it on a desktop.
Click

for the

Settings

menu.

Click

Manage your team

.
Team Overview
The Admin Panel gives you an overview of your team along with options to manage and secure it.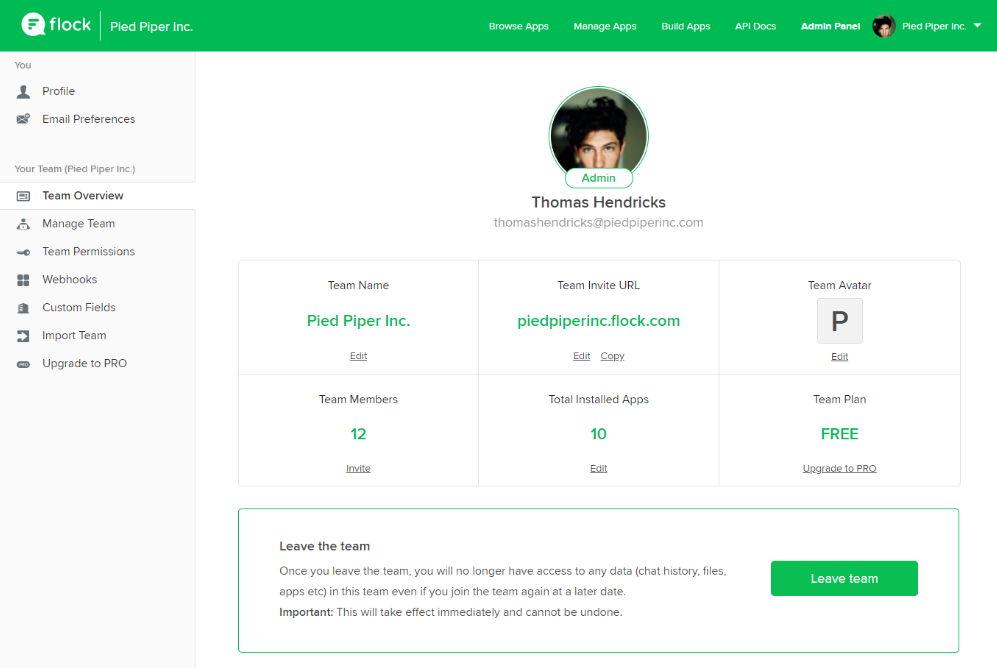 Team Name


You can change your team's name by clicking

Edit

. This doesn't affect the Team Invite URL.

Team Invite URL


This is your team's customizable public web address. Invite new users by sharing this URL and they can simply sign in with their work email address.

Team Avatar


An avatar is your team's visual identity. It makes it easier for new team members and guests to identify and join your team. You can upload a square image not larger than 100 x100 pixels.

Team Members


Shows the total number of people in your team. This includes people that have been invited but haven't yet joined. Click on

Invite

to add more members to your team.

Total Installed Apps


Shows the total number of apps installed by team members. From here, you can go directly to the Flock App Store to browse and manage apps.

Team Plan


Shows your team's current pricing plan. Teams on the free plan also get an option to upgrade.

Leave Team


This action is immediate and cannot be undone. Once you leave a team, you will no longer have access to any team data (chat history, files, apps, etc.) even if you rejoin at a later date.
| | |
| --- | --- |
| alert-warning | Every Flock team has at least 1 admin. If a team has only 1 admin and s/he chooses to leave the team, Flock automatically identifies and promotes another team member to the role. However, if the team admin is also the only remaining team member, Flock alerts them that the team will be deleted (with all its data) once they leave. |