The Process Automation module includes some pre-designed templates to automate common processes. You can also use the Process Designer to create new templates for your team.
To create a process:
Launch the Process Automation app from Flock's apps sidebar.
Click on Start a new process to launch the module in a new window.
In the Process Automation module, you can either choose from the pre-designed templates or Design a new process in the Templates section.
| | |
| --- | --- |
| image-shadow | |
Click Design a new Process, give it a name and click Start designing the process.
| | |
| --- | --- |
| image-shadow | |
In the Process Details screen, select individuals or groups that can run this process.
Add a description, the department the process belongs to and click Save and Proceed.
| | |
| --- | --- |
| image-shadow | |
In the Process Starter Form screen, add fields to capture information from the user.

| | |
| --- | --- |
| image-shadow | |

You can create fields that accept short answers, longer text input, multiple choice answers, dates, contacts and more.
You can also mark certain fields as required and make them mandatory for users.
To ensure accurate data input by users, you can add help text and descriptions for each data entry field in the advanced options section (the gear icon).
Once you've created the fields you need, click Preview to see how the form looks, and click Save and Proceed.
In the Add Tasks screen, create tasks required for the process to be executed.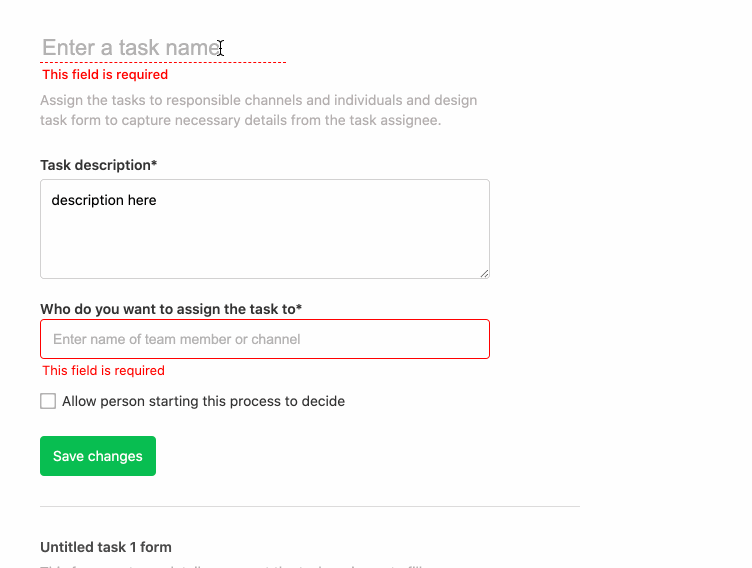 You can specify if the tasks should be completed one after the other or in any order.
For each task, specify who it should be assigned to. You can choose to assign tasks to the Process Starter or the Process Starter's Manager or select another team member from the contact picker.
At any point, you can save your work on the process template by clicking Save to Drafts at the top of the screen.
Once you've created the tasks and related forms, click Save.
Verify all details in the Process Preview screen, click Publish Process, and confirm.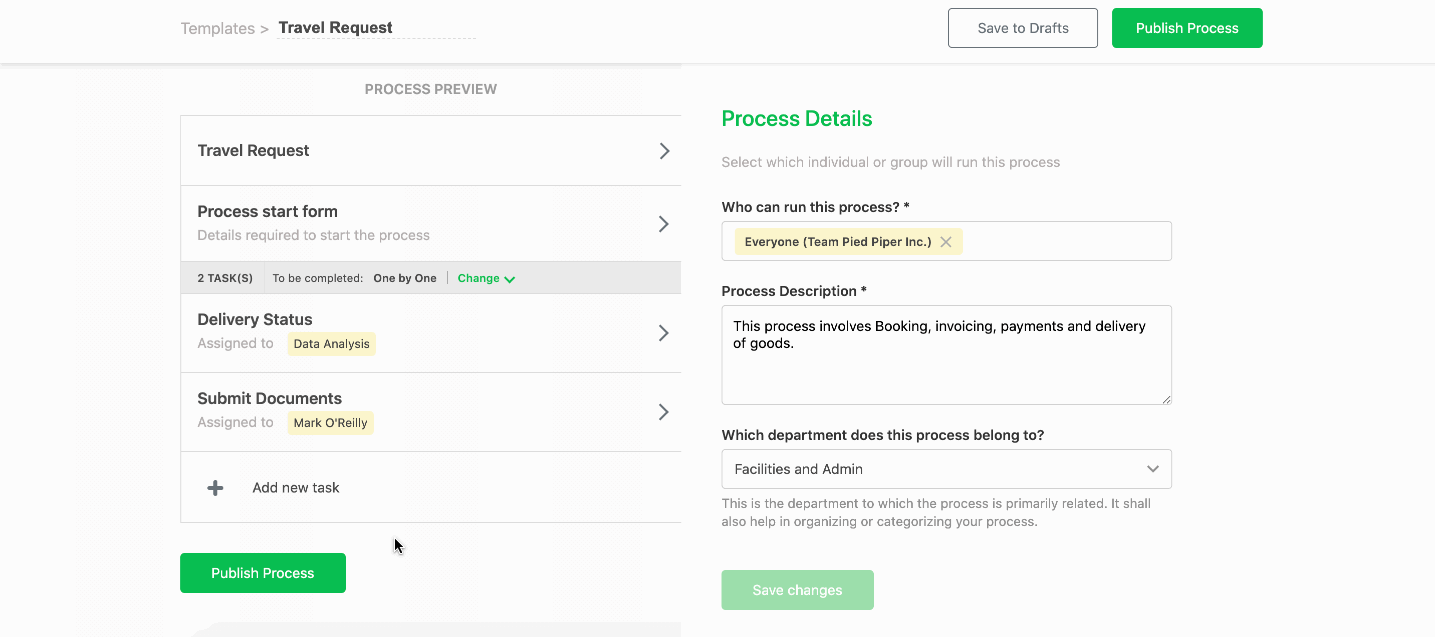 The process is now available to all applicable team members in the Start a new process screen.
Additional Resources
Here is a view walkthrough that shows how to create a process template in Flock: