Overview
Flock is designed to be simple and easy to use, so everyone in your team can get in and get started in seconds. Here's a quick tour:
align-image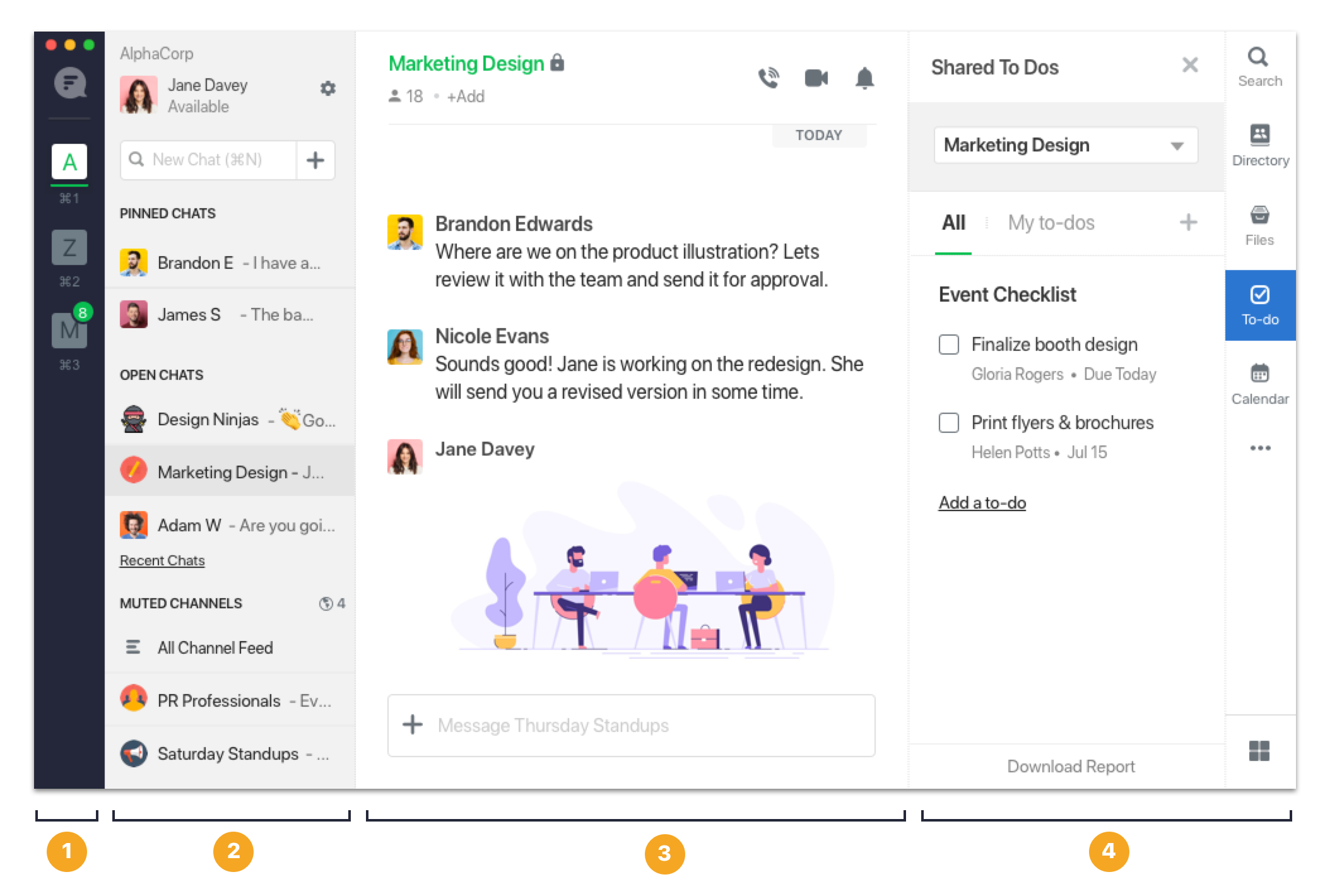 1. Teams Panel is the left-most panel on Flock. From here, you can create or join multiple Flock teams and switch between them.
2. Active Chats Panel shows all your conversations. It is further organized into Pinned Chats, Open Chats, and Muted Channels.
3. Chat Area shows your current conversation along with options to start a video call or set up an audio conference and manage notifications.
4. Apps Launcher contains a scrollable list of apps you use every day. When you launch an app, it usually opens up in a sidebar. You can browse and install more apps from the Flock App Store.

Active Chats Panel
align-image
All the conversations you have had in your Flock team appears here in this section. Let's deep dive to see how this section is organized.

1. Profile Menu - Click on your name card to access the profile menu and edit/update your profile, set notification preferences (DND), access the team admin panel or manage apps for your team.

2. Quick Search - Want to chat with someone from your team? Use quick search to find them and start a conversation. Click on the + button to invite more people to the team, create a new channel or join an existing public channel.

3. Pinned Chats - Keep track of important conversations by pinning them. You can reorder pinned chats (one-to-one chats and channels) and the order of chats is synced across your devices.

4. Open Chats - All new messages appear here in chronological order - with the most recent conversation automatically moving to the top.

5. Muted Channels - You can mute notifications from noisy channels to focus on conversations that are important to you. At any time, you can quickly check unread messages via the All Channel Feed.
Chat Area
align-image
The Chat area is where everything relevant to your current chat is. This area also contains powerful actions you can take on a chat.

1. Chat Info - Displays the channel name, its description, the number of people in the channel etc. In a one-to-one chat, it displays your teammate's name, avatar, status and last seen info.

2. Chat Actions - Start group video calls, set up audio conferences and manage notification preferences (for a channel).

3. Message Area - Shows all messages in your current conversation. You can send text messages, images, rich attachments like URLs, files, polls etc.

4. Attachment Picker - Click on the +, to share documents and images, create notes and code snippets, and conduct polls.
Apps Launcher and Sidebar
align-image

The right-most section of the app contains the Apps Launcher bar and the sidebar that let you interact with Apps in Flock. Let's see what this section contains:

1. History Search - Quickly search for messages in one-to-one chats and channels. You can also filter results by message sender and conversation.

2. Files - Easily access all files shared in a conversation. You can also pin important links and files to find them faster, both in one-to-one chats and channels.

3. More Apps - A scrollable list of built-in apps such as To-dos, Polls, Notes and user-installed apps such as Trello, Twitter, Asana etc. You can rearrange them to your liking.

4. Flock App Store - Takes you to the Flock App Store where you can browse and install more apps and integrations with third-party services such as Google Analytics, GitHub etc.

5. Sidebar - This is where you work with apps such as Team Directory, To-dos, Notes, Calendar, Google Drive and more.